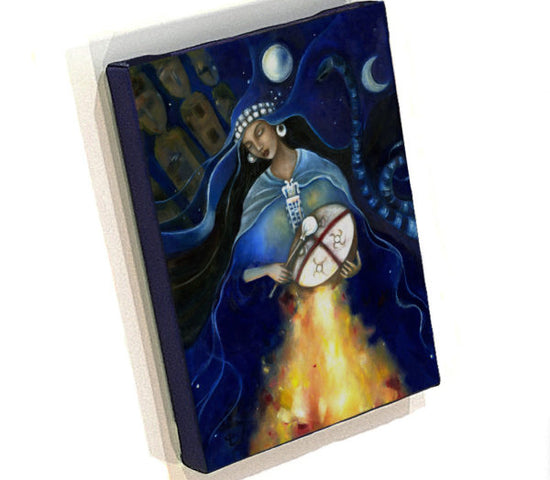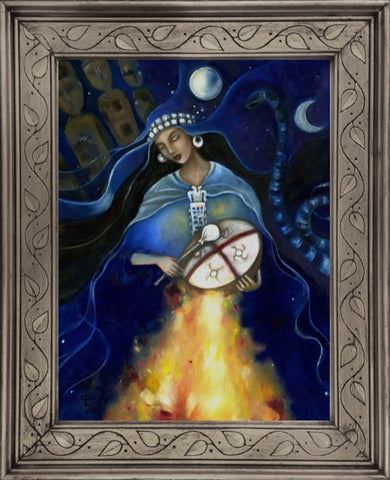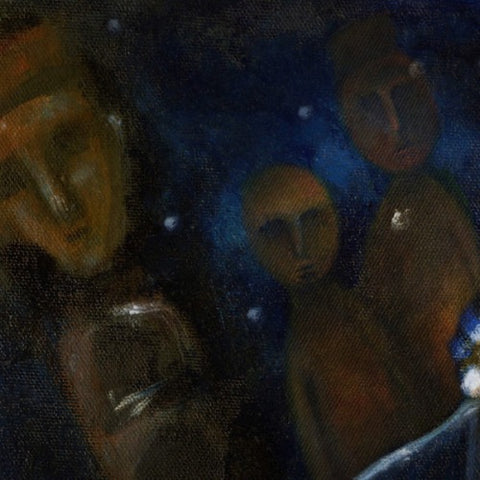 Kuyen Reproduction on Canvas
Old price $85.00
Kuyen- Ancestors and Past Lives
High-quality reproduction print on canvas of original painting by artist Claudia Olivos. Gallery wrapped finish so print can be hung with or without a frame. Printed locally in her studio OlivosARTstudio to ensure clarity and accuracy of the image. All pigments and papers used are acid free to ensure longevity and quality. 
Size:12"x16"
The moon Goddess of the Mapuche people of Chile and Argentina, she controls the lakes and oceans, and is married to Antu, the sun god. She is depicted carrying the ceremonial drum, the Kultrum, that contains sagred and secret spiritual items and is used to call forth spirits of the ancestors. She reminds us to seek answers and knowledge from our ancestors and elders, to learn from them, and to continue to evolve and grow.
Any candle or item from our store that hasn't been lit or used is eligible for a return. Please email us if you decide after a product has arrived that you do not want it for any reason.  We are unable to accept returns for candles or other items that have been used to test the scent or the product.
*TML CLASS PACKAGE INFO; All sales are final on class packages at TML studio. Please see details section above for above for which classes your package applies to.
***You will receive an email receipt AS WELL AS a digital download email that includes a PDF file with additional information on how to register for your classes at TML. You will not be able to schedule your classes without that download. This download is product specific to your purchase. Please keep your eye out for it and check your spam file if you do not recieve right away with your class purchase .