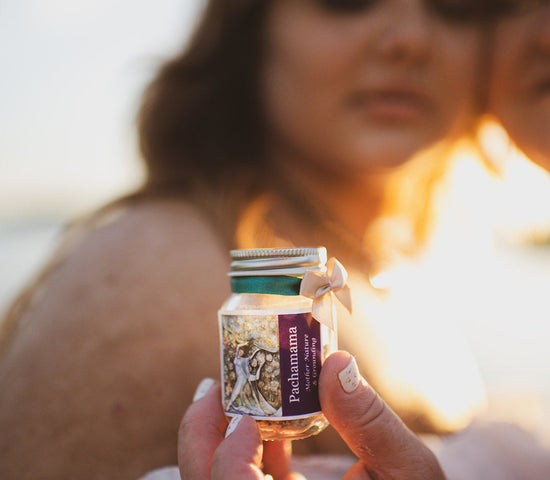 Pachamama Intention Jar
Old price $6.98
The intention jar for Pachamama contains mullein, cinquefoil, and catnip to provide purpose, determination, support, health, power, wisdom, healing, love and beauty. The gemstones included are fluorite, garnet and amethyst to enhance clarity, structure, focus, inspiration, passion, clear and harmonize the aura and bring purification and balance.
Throughout history, intention jars—also referred to as spell jars—have been used as potent spiritual tools. Using our Goddess Model Program, you can now learn how to utilize the magical properties of specific herbs, gemstones, crystals, and salts to bring about positive change in your life via daily practice. Each jar contains herbal infusions, gemstones, and salts that reflect both the Goddesses and the "principles" of The Goddess Model. They can be used as a bath tea, on an altar, or in mojo bags.
Pachamama, Mother Earth Goddess of the Andes, embodies nourishment and abundance and encompasses all of creation. She is associated with rituals for fertility, protection, and healthy crops.  
Any candle or item from our store that hasn't been lit or used is eligible for a return. Please email us if you decide after a product has arrived that you do not want it for any reason.  We are unable to accept returns for candles or other items that have been used to test the scent or the product.
*TML CLASS PACKAGE INFO; All sales are final on class packages at TML studio. Please see details section above for above for which classes your package applies to.
***You will receive an email receipt AS WELL AS a digital download email that includes a PDF file with additional information on how to register for your classes at TML. You will not be able to schedule your classes without that download. This download is product specific to your purchase. Please keep your eye out for it and check your spam file if you do not recieve right away with your class purchase .