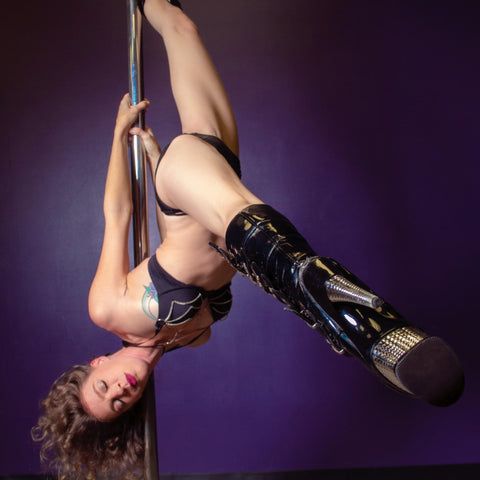 Beginner, Intermediate & Advanced Pole Dance Instructor
A Little About Me
1. Where are you from?
I am from Raleigh, NC

2. How long have you been Pole dancing?
I began my pole journey in 2013.
How did you become interested in Pole dance?
 A friend introduced me to pole dance. I was hooked from day one. Having a background and teaching both gymnastics & cheer I did take to it naturally.
4. What's my favorite thing about teaching Pole dance?
I love to see when my students progress. I am overwhelmed with excitement when I see a student finally get a move that they have been working on for some time. Pole is beautiful, sexy, and sensual but make no mistake it is a skill that does not come overnight. That is the part of pole that is so empowering because when you nail a move you feel that rush surge through you.
5. What kind of music do you like to dance to?
I have been know to play Ram Jams Black Betty one to many times in class LOL. I personally love to swing around the pole to that song! I do love all different types of music and I do mix things up in my classes from rock to r&b, to indie etc...I feel its important that students learn to feel everything while tapping into the soul of pole dance
.6. Any advice to those interested in trying pole dance classes for the first time?
 Be open to new experiences and movements, no one is watching you, they are worried about themselves LOL.  If you're confused ask for help and the instructor will gladly walk you through whatever you're struggling with lastly, have FUN!